Junior ROTC is a voluntary class which qualifies as an elective for any of the North Carolinagraduation and course of study requirements. It is highly recommended for students who are interested in college-level military education such as service academy appointments and college ROTC scholarships, in addition to those students who plan to enlist in any branch of the military following high school. The course is also recommended to any student who has a general interest in military concepts of training, physical fitness and discipline. Only a fraction of our students follow through with military service but all receive an appreciation for the challenges and benefits available to those who choose to serve.
Note: Students who enroll in JROTC for the first time after their sophomore year will normally be placed in the JROTC class appropriate to their age group, i.e. seniors enrolling for the first time are not required to take JROTC I and will be placed in JROTC III or IV based on class availability.
Grade Level: 9-10
Prerequisite: US Citizens (can be waived)
This course is designed to introduce students to the precepts of citizenship, the elements of leadership, and the value of scholarship in attaining life goals. It also develops a sound appreciation for the heritage and traditions of <st1:country-region>America</st1:country-region> with emphasis on the role of the sea services in our military traditions. It includes information on the organization and mission of the Navy and Marine Corps, military drill and ceremonies, uniform regulations, physical fitness, orienteering, principles of health, first aid, and survival. These elements are pursued at a fundamental level and there is no military obligation involved. The U.S. Navy furnishes uniforms, textbooks, films and training materials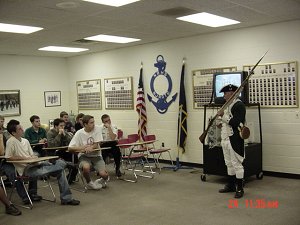 Grade Level: 10-12
Prerequisite: JROTC I
This course is designed to develop a sound appreciation for the heritage and traditions of <st1:country-region>America</st1:country-region>, and the historically significant role of sea power in <st1:country-region>America</st1:country-region>'s future. Each cadet will foster a growing sense of pride in the program, their associates and self. The course is divided into sections on Maritime History from early western civilization to the present, and Nautical Sciences which include maritime geography, oceanography, meteorology, and astronomy.
Grade Level: 11-12
Prerequisite: JROTC II
This course is designed to further develop the understanding and importance of sea power and national security. The course has a section on Naval knowledge that includes sea power and national security, naval operations and support functions, military justice, and international law of the sea, and a section on Naval skills including shipboard damage control, deck seamanship, navigation, international rules of the road, maneuvering board and naval weapons.
Grade Level: 11-12
Prerequisite: JROTC III
This course builds on the qualities of a good follower and effective leaders provided in Naval Science I, II, and III. It takes an in-depth look at leadership and how to maximize skills through a series of video case studies where leadership characteristics are observed and discussed.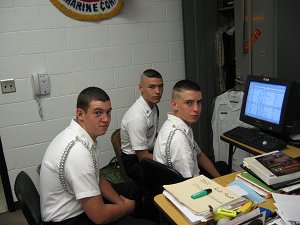 Grade Level: 11/12
Prerequisite: Teacher recommendation
Co-requisite: Concurrent enrollment in JROTC II, III, or IV for the school year.
This course develops skills in applied leadership, administrative functions and procedures, supply functions and procedures, and applied communications techniques. Basic computer skills are required.
95012FA and 95012SP Varsity Drill Team Fall & Spring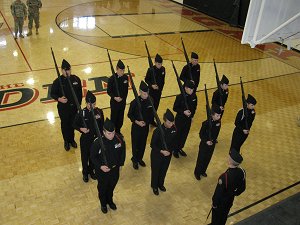 Grade Level: 10-12
Prerequisite: Teacher recommendation, prior JROTC course and concurrent enrollment in any JROTC class (I, II, III or IV) for the school year. Students must complete the current years JROTC class to receive credit for the Varsity Drill Team.
This course covers basic drill and ceremonies from individual drill through battalion level drill. Emphasis is placed on exhibition drill. Cadets who take this course are required to participate as a member of the NBHS JROTC Drill Team and will be required to participate in approximately six (6) drill meets throughout the school year. These meets are usually conducted on Saturdays. Additional uniforms are provided at no expense to the cadet.
95012FR Freshman Drill Team
Grade Level: 9
Prerequisite: JROTC I
This course is intended to offer first-year JROTC students the opportunity to take a second semester of ROTC in order to develop skills in military drill that would prepare them for participation in Varsity Drill Team and other JROTC ceremonial activities in subsequent school years. Freshmen Drill Team will only be offered in the second semester of each school year. This course will also be offered to students in higher grade levels who wish to assist in teaching military drill to inexperienced students.
NAVAL SCIENCE CLASSES:
TESTS = 60%

CLASSWORK (DRILL/UNIFORMS/ETC) = 25%

PARTICIPATION ( PT/CPS REVIEWS/ETC)= 15%
STAFF PROCEDURES CLASSES:
COMPUTER SKILLS (JUMS/EXCELL/NJROTC WEBSITE)= 25%

PROJECTS (AMI/MIL BALL/ETC.)= 25%

CLASSWORK (DRILL/UNIFORMS/ETC) = 25%

PARTICIPATION ( PT/CPS REVIEWS/ETC)= 25%
DRILL TEAM CLASSES:
PARTICIPATION (PT)=25%

CLASSWORK (UNIFORM INSPECTIONS/DRILL PRACTICE/ETC)=25%

PERFORMANCES(DRILL MEETS/PARADES/COLOR GUARDS/ETC)=25%

DRILL KNOWLEDGE/PROFICIENCY)=25%